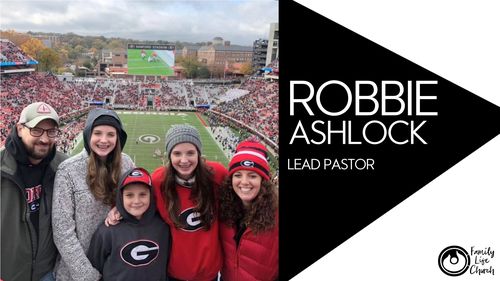 Robbie Ashlock is the Lead Pastor of Family Life Church. Robbie and his wife Reagan have 3 kids. They have twin girls and a son. Robbie has been on staff at FLC for almost 20 years (first, as Family Life Church's Student Pastor, and now as our Lead Pastor). Robbie has a heart for people & loves teaching the Word. Robbie enjoys reading, movies, and any time spent with the family!

Brandon has been on staff at Family Life since 2015. He is Family Life's Administrative Pastor and also oversees the Next Step Ministry. He's an avid gamer, and also likes to mountain bike, run, cook delicious meals, and read. He is a graduate of Abilene Christian University and Wheaton College. He loves ministry, connecting others to the body of Christ, and seeing them grow in their walk with Him. If you have any questions about Life Groups, getting plugged in here at Family Life, or questions about the day-to-day operations at Family Life Church, Brandon is the guy to talk to.


Zach and his wife Regan have been faithful members of Family Life Church for many years. Zach has a background in media and broadcasting, and has a degree from West Texas A&M University. After many years of serving faithfully with our youth program and as our Production Director, Zach was hired on officially as our Student Pastor in November of 2020. We are proud to have Zach as part of our staff and church family!


Keena Ivie is our Children's Pastor. She and her husband, Gene, have 2 sons and a daughter. Keena has been on staff here for close to 20 years and leads our children and children's volunteer staff to great depths every year! VBS, Holy Smokes BBQ, Camp KidJam and many other events are all led by Keena. We are so blessed to have her here! She loves to spend time with her family and watch her kids play sports!


Lacey Jellison was brought on staff as one of our Assistant Children's Pastors in February of 2020. She and her husband, Bob, have been members of Family Life Church for many years. She and Bob are the heads over the hospitality ministry of Family Life Church, and they also host and lead a Life Group at their home on Wednesday evenings. Their son, Jace, is involved in the youth ministry at FLC. Lacey is excited to join us, and we are so very happy to have her on staff!


Celena Travis joined us in February of 2020 as our second Assistant Children's Pastor! She and her husband, Jared, formerly served overseas in China, teaching English to students at university. They have three wonderful kids, Audry, Hannah, and Lauren. Celena brings a wealth of teaching and ministry experience with her to the Family Life staff. We can't wait to see how God utilizes her for His glory as she serves the children of Family Life Church!


Shaina and her husband Nick have two daughters. You can find both Shaina and Nick on the worship team. Shaina has a degree in graphic design from WTAMU. Shaina is our Worship Pastor, and also handles the creative arts and graphic design side of our advertising, mail-outs, church website, etc. She is passionate about leading people into worship. If you have any musical ability (whether instrumental or vocal), Shaina would love to hear from you!


Marcella has attended Family Life Church for many years. She came out of retirement in 2019 to assist us as our Financial Officer, and we are so incredibly happy to have her with us on staff again! Marcella works closely alongside Amy Tucker and Pastor Robbie to ensure that our church is running smoothly from week to week. She loves spending time with her Life Group and family. If you are in need of any assistance regarding your weekly tithe or donations, Marcella would love to help you!


MaryJane Gutierrez and her family have attended Family Life Church for many years. She and her husband Julian have been involved in ministry at Family Life in many different ways, and we love them very much! We were so excited when MaryJane joined us in September of 2020 as our Office Manager and future Financial Officer! If you contact our front office during the week, MaryJane is likely to be the person you'll speak to!